Keyboard controls and instructions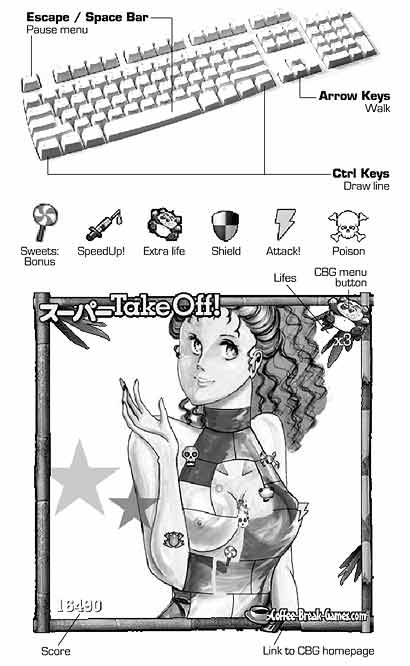 Help Pete the Panda Bear go through the clothing of beautiful women.
Help him wander around by using the Arrow keys and press the Ctrl key to draw a straight line. If you succeed in drawing a complete pattern just let the key go and the enclosed material will be cut out.
If the complete "playing field" is removed in this way, you can proceed to the next woman.
Pete needs to keep his wits about him however. If an opponent catches him or the time limit is up, Pete will lose one of his lives. The Point Bank can grow by simultaneously cutting away as many playing fields as possible. The more you cut off at once the bigger the point bonus!
Of course for each free area Pete receives valuable bonus seconds.
The quicker a lady is removed of her clothing the bigger the bonus at the end of the level. Pete should attempt to collect as many of the extras that opponents leave behind as possible.
If the opponents come across a completed playing field, they may be ejected from the level.
The syringe contains a secret substance makes Pete glow blue, and makes him move much quickly...Thank goodness there is no drug testing here.
The lightning symbol makes Pete glow orange and gives him the ability to conquer his opponent simply by touching her.
The shield protects Pete from all evils, except from running over the time limit!
If Pete collects another Panda Bear he receives an extra life.
Of course there are plenty of other yummy things to collect, which taste quite good, but only bring him extra points.